A History of the LENNONS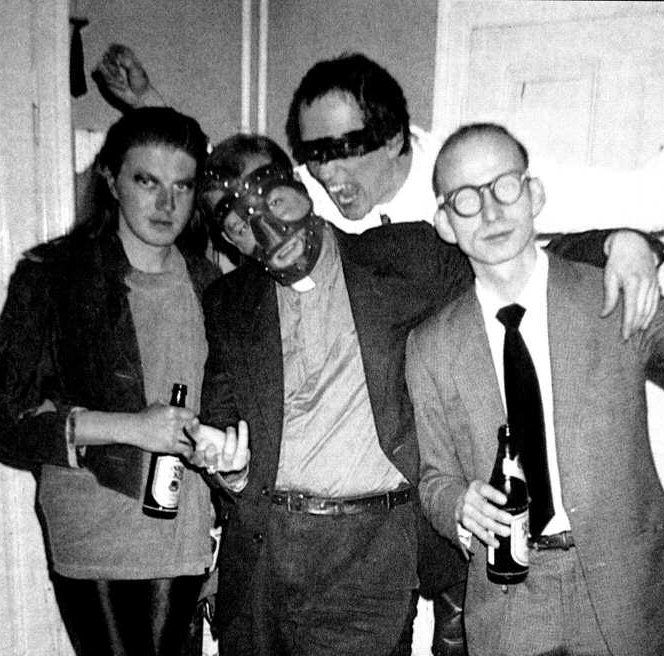 1981 Four "angry young men" hit the stage as the LENNONS for the first time.Their first EP "Die Wahrheit über Claudia, Erika and die ganzen Anderen" is released and almost immediately banned because of the lyrics. This results in the record being sold out shortly after.
1982 The LENNONS play live-gigs all over Germany and in some 1986 parts of France.
1987 Michael Hermann releases a record with another project of his, the BABES IN TOYLAND, where he is assisted by Der Wahre Heino (of DIE TOTEN HOSEN) and Daktari Lorentz (the leading actor of horror movie NEKROMANTIC). This helps to get several TV appearances for the LENNONS as well.
1990 Finally the LENNONS are back on vinyl with their EP '"Blutorgie in der Leichengrube", which receives a warm welcome and has been re-released twice at this point in time. An extended Germany-tour with yugoslawian Punkrock-legend KUD IDIJOTI follows.
1991 The band appears on the anniversary compilation of their label, INCOGNITO RECORDS, along with lots of English groups.
1993 The LENNONS release their live-album "Lebendig gefressen"", which is also available on CD due to public demand.
1996 The band celebrate their 15th anniversary with a new record ("Die Welt ist schlecht") and lots of gigs with former rnembers. In September a tour over Germany starts as a double-bill with Scottish group HUGH REED & THE VELVET UNDERPANTS. The same month the LENNONS play a big Punk-festival in Bath along with legends like THE DAMNED, the UK SUBS or the ANGELIC UPSTARTS, which is also released on Video.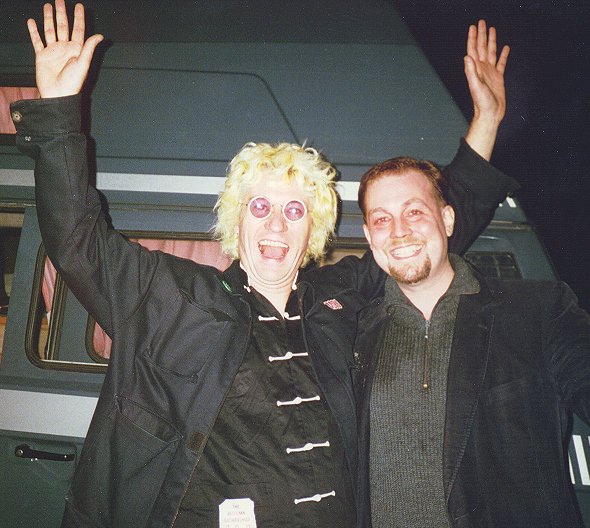 Michael Hermann and Captain Sensible
In 1997 the LENNONS tour Scotland twice, being supported by Big John of the EXPLOITED for one Edinburgh gig.
1998 The band finally release their new LP and CD "Rache für Elvis". Several concerts and open-air-festivals follow, among others with British Punklegend Attila the Stockbroker. In August the band plays a giant Punkrock-Festival in Maribor, Slowenia for the first time.
Since January 2000 the LENNONS are back with an improved line-up and ready to take over!
In 2001 they are working on a TV documentary to celebrate their 20th anniversary.
In 2002 the new CD "Der Weg nach Eden" is released. It features 16 new songs and guest appearances by Axel (WIZO) and Archi MC Motherfucker (TERRORGRUPPE).
In 2006 the LENNONS are still going strong and celebrating their 25th anniversary with lots of special surprises!
The LENNONS play melodie late 70s-style Punk Rock, which has been spared from any influences of Hardcore or Grunge and deals with political problems as well as with post-adolescent teenager fantasies.What makes their live-performances the more enjoyable, is the excessive use of masks, stage make-up and lots of other theatrical effects.
To cut a long story short - if Franz Kafka played Punk Rock using his own lyrics and Alice Cooper's costumes, you might be reminded of the LENNONS performing live.
The LENNONS are:
Michael P. Hermann: vocals and guitar
Helmut Kuntschner: guitar and vocals
Gerhard Michaelis: drums and vocals
Michael A. Wurster: bass and vocals

BACK TO MAIN PAGE